Suven Pharma has delivered stellar earnings for the year ending March 2020. In this post, we analyse key financials and the current valuation to assess its potential upside for the near term.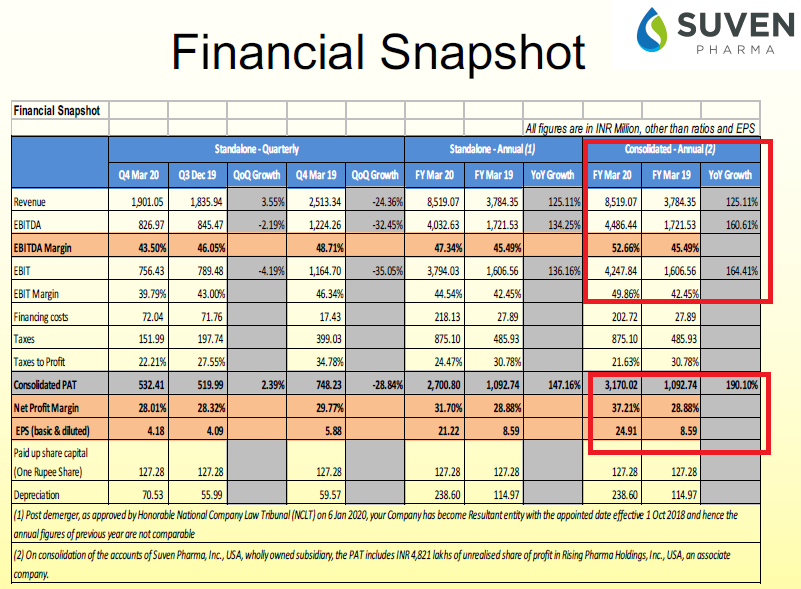 Full year revenue for FY20 has seen a massive jump of 125% from Rs 378.4 Crores to 851.90 Crores. EBIT shows a very healthy jump of 164.4% from 160.65 Crores in FY19 to 424.78 Crores in FY20. Similarly, net profit has jumped multi-fold by 190% from 109.2 Crores in FY19 to 317 Crores in FY20.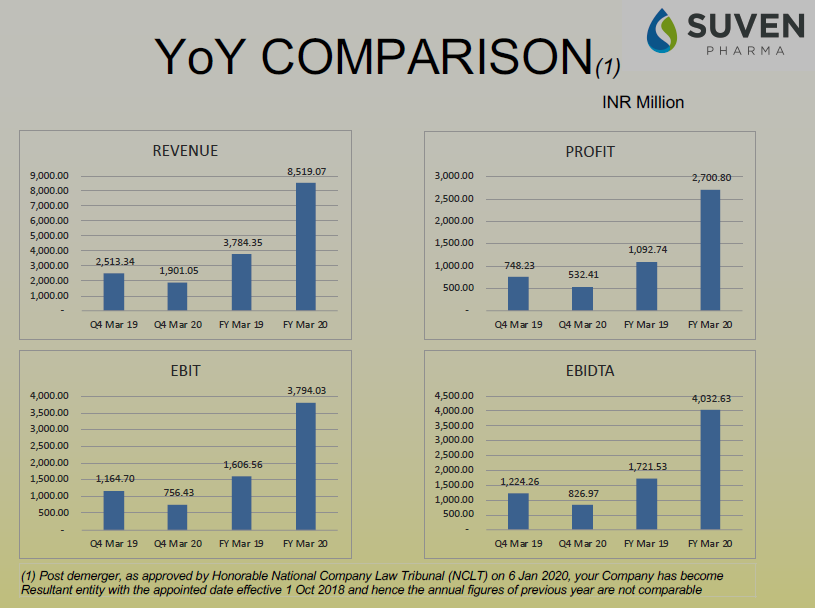 The thing that immediately leaps and jumps out at you from the graphs above are the absolutely crazy margins that Suven Pharma enjoys. For easier comprehension, lets look at the data in tabular form
[table id=2 /]
Its evident from the data above that Suven Pharma's margins are consistently high at all levels, be it EBITDA, EBIT or Net Profit level. And margins have been high across time spans. For fiscal year ending March 20, the EBIDTA margin is over 47%, while EBIT margin is over 44% and the net profit is at a luxurious level of over 31%! This shows the quality of the business earnings as well as the pedigree of the management of the company. A growing company like this is likely to command higher earning multiples compared to a company with lower margins.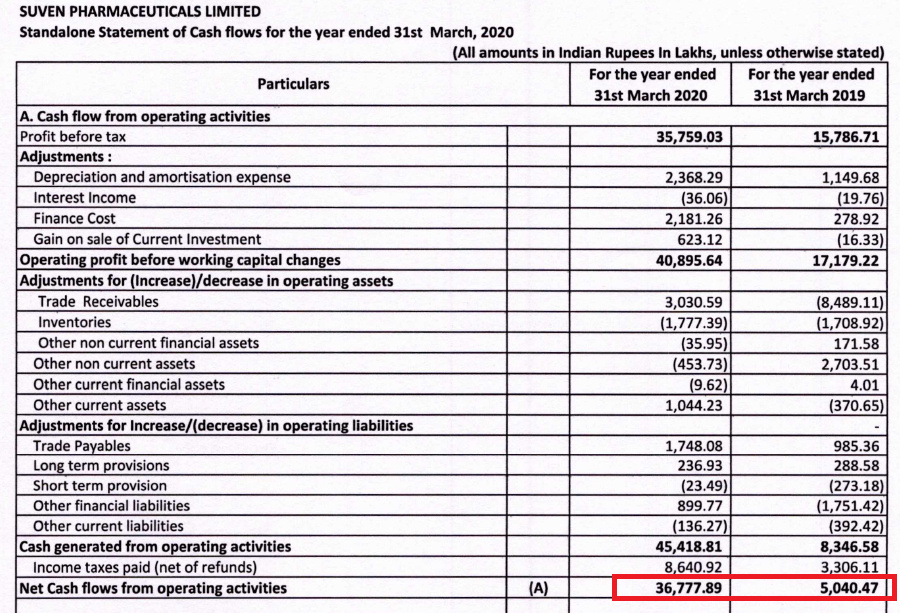 Cash Flows have seen a massive boost as well. From 50.40 Crores in FY19, cash flow from operations have multiplied more than 7 fold to a level of 367.78 Crores in FY20, indicating that the company has been able to translate its higher revenue and PAT into actual cash flows.
The trade receivables figure has gone up considerably compared to previous year, but looking at the massive increase in revenue, the figure is well justified and well within reasonable limits.
The closing price of Suven Pharmaceuticals on 19 June 2020 was around Rs 398. With these results, the stock is grossly undervalued. With a consolidated EPS of Rs 24.91 for FY20, its currently valued at a mouth-watering P/E of 15.97. A highly profitable Pharma CDMO company with best in the industry margins, Suven Pharma can easily command multiples between 25 to 30. Basis such valuation, the stock has the potential to trade in the price range between 620 to 745 range.
I think that the stock will achieve its potential target price over the next 2-3 months with the first target being Rs 560 followed by 620 and a high of Rs 740 in the near term. Thus there is a clear upside potential of 40% to 85% in the stock currently.
You can access the complete financial statements of Suven Pharma by downloading its Annual Report from Bombay Stock Exchange website , by clicking here
Disclaimer: I am not a SEBI registered analyst. This article is for educational purposes only. This is not a stock recommendation, nor an advice to buy or sell a stock. Please consult your financial adviser before you make an investment decision.